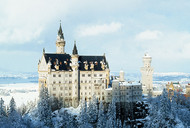 King Ludwig II's world-famous castles stand proudly against the spectacular backdrop of the Alps. Neuschwanstein, his fairytale castle, is the most-visited building in Germany, and was designed to resemble a medieval German knight's castle.
Spectacular castles in a stunning setting
The "fairytale" king's castle has an audacious and other-worldly feel. A tribute to Wagner's operas and German heroic legends, Neuschwanstein is a testament to the ideals and yearnings of King Ludwig II. Neo-Gothic Hohenschwangau Castle meanwhile has a romantic and welcoming appearance and was the former summer residence of the royal family. The magnificent alpine backdrop is straight out of a picturebook, with lush green meadows and dark forests.