Museums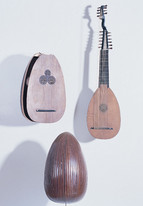 The Füssen Heritage Museum in the former monastery of St. Mang is particularly worth a visit, with historical lutes and violins and the painting of the "Füssen Dance of Death" displayed in St. Anna Chapel. Fine examples of late-Gothic and Renaissance art can be found in the Bavarian State Gallery in Hohes Schloss Castle. Model railway enthusiasts will love the Zeitschienen Model Railway Museum.
Neuschwanstein Castle
It took more than 20 years to build Neuschwanstein Castle. Unfortunately, King Ludwig II died before it was finished. Just a short time after his death the castle was opened to the public. The castle can only be viewed as part of a guided tour, conducted in several languages, or with an audio-guide translation. Visitors have to climb a total of 165 steps going up and 181 coming back down. Special guided tours for wheelchair and walking frame users are available on request after official opening hours on Wednesdays. Neuschwanstein Castle is closed on 24, 25 and 31 December and 1 January.
»
Further information
State Art Collection
A gallery forming part of the Bavarian State Art Collection is located in the north wing of late-Gothic Hohes Schloss Castle, the former seat of the prince bishops of Augsburg. Six rooms, each with its own individual character, on the second floor of Hohes Schloss Castle present a well-balanced collection of late-Gothic, mostly Swabian paintings, plus a small number of late-16th century paintings. Panel paintings and sculptures provide an overview of art in the Allgäu and Swabia at the end of the Gothic era. The banqueting hall is particularly noteworthy, with a magnificent coffered ceiling and reliefs of St Afra and St Simpert and the Virgin Mary. Glass paintings by Hohlbein and Burgkmair reflect the flourishing culture of the age of Emperor Maximilian I. Closed on Mondays, guided tours on request.
»
www.tourismus-fuessen.de
Lutes and violins in the Füssen Heritage Museum
The Füssen Heritage Museum, founded in 1913, is located in the south wing of the former Benedictine abbey of St. Mang, which was redesigned in the 18th century by the architect Johann Jakob Herkomer. The lute and violin section is a reminder of Füssen's long, but virtually forgotten heritage as a European centre of lute making. Visitors can see string instruments created by master instrument makers from the Füssen region from the 16th to the 19th century, including a lute with an ivory back, a kit violin with tortoise shell body, a viola d'amore by Johann Ulrich Eberle and a violin by Franz Geissenhof, the "Stradivarius of Vienna". The fully equipped workshop of K. Leonhardt, a violin makers, illustrates each stage in the production of a violin. Closed on Mondays, only open Friday to Sunday from November to March.
»
www.tourismus-fuessen.de
Municipal Art Gallery
The north wing of Hohes Schloss Castle houses the Municipal Art Gallery which features mainly 19th century art. Its collection includes delightful drawings from the Pocci collection by Franz Graf von Pocci, works by the 19th century Munich school, paintings by Spitzweg, von Defregger, Freiwirth-Lützow and local painters from Füssen such as Rings (1901-1994) and Hermann (1907-2002). Closed on Mondays, guided tours on request.
»
www.tourismus-fuessen.de
Füssen Heritage Museum in St. Mang Abbey
The former Benedictine abbey of Saint Mang dates back to the work of St Magnus in Füssen around the year 750 AD. The museums' main exhibit is the building itself, which is a listed site of historical interest. Visitors can walk round two sides of the excavated cloister, enter St Anna's chapel with the famous "Füssen Dance of Death" cycle by J. Hiebeler (1602), see numerous works of art from the Romanesque to the rococo periods and tour the Abbey's baroque state rooms, including the Prince's Hall. The collegiate church of St Mang has an impressive 8th century Romanesque crypt and fragments of a 10th century fresco of the Reichenau school. Closed on Mondays, only open Friday to Sunday from November to March.
»
www.tourismus-fuessen.de
Top of page
Map of Germany
Map showing all of Germany's TOP travel destinations...
Click here!
Search in surrounding area