Suggested excursions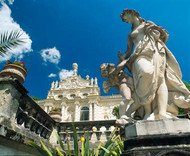 The central location that has been responsible for Füssen's interesting past also makes it a perfect base for modern-day visitors. All the loveliest spots in Bavaria and the Tyrol can be easily reached from Füssen by car, coach or train.
The Wieskirche Pilgrimage Church (25km)
High on the "must see" list is the Wieskirche Pilgrimage Church, a rococo gem and UNESCO world heritage site. The church is an unparalleled example of how light can be used as a building element alongside brick and stone. True pilgrims leave their cars in Steingaden and climb the shady path on foot, a walk that takes around an hour.
Linderhof Palace (40km)
The smallest of King Ludwig's fantasy castles is set in the climatic health resort of Ettal with the abbey of the same name. It is surrounded by a picturesque park containing fountains, Venus grotto and the Moorish Kiosk. It is the only palace that King Ludwig II lived to see completed.
Oberammergau (60km)
Oberammergau is just 50km from Füssen. This pretty village is famous for its house wall paintings, wood carvings and the Passion Plays that are staged here every ten years in fulfilment of a vow that was made in 1633, a year of plague. Equally well-known is the "Romantic Road" which passes through one ancient town after another, linking numerous places of interest along the way from Würzburg to Füssen.
Top of page
Map of Germany
Map showing all of Germany's TOP travel destinations...
Click here!
Search in surrounding area