Permanent exhibitions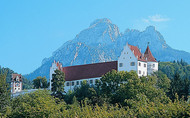 Permanent exhibitions offer interesting insights into the town's history and other specific themes. The Zeitschienen Museum has what may well be the world's largest private collection of model trains and model cars. The Bavarian State Gallery has an impressive collection of late-Gothic, mainly Swabian paintings.
Model trains and cars
Zeitschienen Museum displays a cross-section of exhibits from the valuable collection of the late Haase brothers - Ulf and Falk - from Füssen. Their collection is one of the largest private collections in the world. As well as mass-produced models, it includes items from almost all known model railway manufacturers and a large number of rare small-scale series and hand-made models.
Bavarian State Gallery
Six rooms, each with its own individual character, on the second floor of Hohes Schloss Castle present a well-balanced collection of late-Gothic, mostly Swabian paintings, plus a small number of late-16th century paintings and traditional German sculpture.
Top of page
Map of Germany
Map showing all of Germany's TOP travel destinations...
Click here!
Search in surrounding area