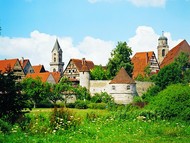 Castles, palaces and medieval towns line one of the most popular scenic routes in Germany. Along its 350 kilometres the Romantic Road offers some of the most diverse scenery, cultural experiences and culinary delights in Germany.
A romantic journey from the river Main to the Alps
This popular scenic route takes you on a romantic journey from Marienberg Citadel in Würzburg to Neuschwanstein Castle in Füssen. You will pass historic towns and villages, magnificent palaces and impressive buildings, all set in a charming landscape, whilst enjoying an abundance of culinary delights.