Museums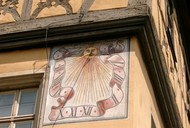 Those who would like to learn more about Dinkelsbühl and the surrounding area will enjoy a visit to the Local History Museum at the old hospital. A completely different kind of museum takes visitors on a journey into the third dimension.
Museum of the Third Dimension
This museum has exhibits on holographs, optical illusions, the concept of perspective, lights and lasers, as well as 3D projections.
Local History Museum at the old hospital
The Local History Museum is housed in the inner courtyard of the old hospital, within a Renaissance style building constructed in 1599. Its exhibits give insights into the history of the imperial town, its guilds, textile production and trade. In addition, visitors can learn about the work of the scientist Raoul Francé and of the children's writer Christoph von Schmid. There are also regular special exhibitions.
Top of page
Map of Germany
Map showing all of Germany's TOP travel destinations...
Click here!
Search in surrounding area