Suggested excursions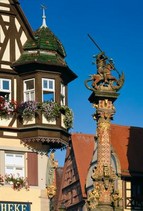 Dinkelsbühl is situated at the centre of the Romantic Road and is an ideal base for excursions to enchanting towns such as Rothenburg ob der Tauber, Nördlingen and Wallerstein. The surrounding area offers many opportunities for walking, cycling and watersports.
Rothenburg ob der Tauber
Walking through this small town on the Romantic Road is like taking a journey back to a bygone age. Its proud town hall, lofty towers and stout town walls, its churches and patrician houses bear witness to its history as a powerful free imperial town. Here history is not just dates, it is a vivid, palpable experience. With its elaborate half-timbered buildings and imposing fortifications, the Rothenburg townscape is still much as it was in the Middle Ages.
Nördlingen im Ries
This old, former free imperial city is the main town in the Ries area and lies on the old imperial road from Würzburg to Augsburg. The skyline of the historic old quarter has been almost completely preserved. It is possible to walk around the entire town centre on the town walls with their 16 towers and gates. Discover the little romantic corners of the old quarter. There are magnificent views over the roofs of the town from the 90m high "Daniel" tower of the late-Gothic St. George's church. Amateur geologists will be in their element with the rich deposits of suevite and other rocks from the Ries impact crater.
Top of page
Map of Germany
Map showing all of Germany's TOP travel destinations...
Click here!
Search in surrounding area