Places of interest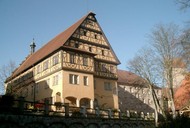 The medieval townscape of this old Franconian Imperial town has been kept almost intact with its fully preserved town wall dating back to the 14th and 15th centuries and its medieval gabled houses.
St. George's Minster
This late-Gothic minster built between 1448 and 1499 is one of the most beautiful hall churches in Germany. The neo-Gothic high altar with its decorative shrine plaque and the tabernacle from 1480 are well worth seeing. If you climb the 65m tower you will be rewarded with wonderful views over the roofs of the old quarter.
Deutsche Haus
The "Deutsche Haus" (German House) on Weinmarkt square is one of the most beautiful half-timbered 16th century buildings in Franconia.
Old hospital
The "Holy Spirit" spital church was built in 1380, extended in around 1500 and its interior was renovated in the 18th century. The triple-winged building with its atmospheric inner courtyard once served as a hospital. The late-Gothic frescoes, fountain, wooden cold mangle and local history museum are all well worth seeing.
Top of page
Map of Germany
Map showing all of Germany's TOP travel destinations...
Click here!
Search in surrounding area