Art & culture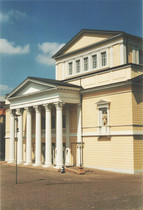 As well as landmark buildings, visitors to Darmstadt can enjoy its broad range of art and culture. The House of History is the town's cultural gem. At Mathildenhöhe, the artists' colony of homes, studios, an exhibition building and gardens with ornate stonework is a living example of early 20th century modern architecture. The works of artists working in Darmstadt from 1899 to 1914 are exhibited at the Artists' Colony Museum.
House of History (Moller Theatre)
Darmstadt's cultural gem is the House of History, one of the most important buildings in the town centre. The former royal theatre (Moller Theatre) built in 1819 was reopened as the Hessian regional archive, Darmstadt town archive and the House of History. The building hosts temporary exhibitions as well as concerts and lectures.
Glückert's House
The Darmstadt artists' colony was founded in 1899 by Grand Duke Ernst Ludwig. Architect Josef Maria Olbrich built Glückert's House as part of the architecture exhibition "A Document of German Art" (1901), which put Darmstadt and the artists' colony on the map and attracted art lovers and fans of Art Nouveau in their droves. The hall, decorated with many paintings and ornaments, is included in most Art Nouveau tours to Mathildenhöhe.
Darmstadt Artists' Colony Museum
Exhibits from the artists working in Darmstadt between 1899 and 1914, when the artists' colony broke up.
Top of page
Map of Germany
Map showing all of Germany's TOP travel destinations...
Click here!
Search in surrounding area