Places of interest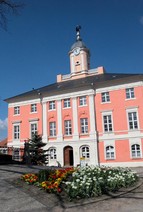 The town of Chorin is set in a conservation area near Lake Parstein and is best known for its Cistercian abbey, a brick-red building which stands out in sharp relief against the backdrop of the Brandenburg forest. Templin with its excellently preserved medieval town wall is located nearby.
Chorin Abbey
The Cistercian abbey in Chorin is a magnificent masterpiece of north German brick Gothic architecture. It is set in charming countryside and during the Middle Ages was an important centre for architecture and agriculture. Its construction dates back to the 13th century and its dissolution to 1542, following the Reformation. In the summer months thousands of visitors converge on the abbey for the Chorin Summer of Music.
Templin
Templin is widely regarded as the pearl of the Uckermark region. Its medieval town wall, gates and towers are among the best preserved in northern Germany. The town wall is more than 1,700 metres long and has been preserved as an unbroken ring with gates, towers and 47 keeps. A stroll through the old quarter, rebuilt in 1735, leads you past the municipal church of St. Mary Magdalen and the baroque town hall.
Oderberg
The town of Oderberg lies on the edge of the Oderbruch, a drained area of marshland. At the height of the Hanseatic era, Oderberg was an important centre for trade due to its favourable location at the intersection of roads and waterways. Today, its picturesque landscape of forests, hills and lake makes Oderberg a popular destination for daytrippers. Visitors can view the preserved remains of the Bärenkasten castle wall. The local history museum has fascinating exhibits on the development of inland navigation in the Oder region.
Top of page
Map of Germany
Map showing all of Germany's TOP travel destinations...
Click here!
Search in surrounding area