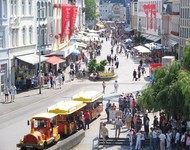 A shopping experience against an ancient backdrop – from the Porta Nigra Roman gate, a UNESCO World Heritage Site and the town's most famous landmark, to the baroque-style palace gardens. Go on a sightseeing tour and at the same time you'll be right in amongst the town's fantastic range of shops.
Germany's oldest shopping town
Explore the fashion houses and department stores in the shadow of the Porta Nigra between Simeonstrasse and Neustrasse, discover the latest trends in the concept shops, track down that special item of clothing in the trendy boutiques, purchase a fine antique and then top it all off with a glass of Moselle wine – factor in the low prices compared to other European cities and you've got the recipe for an unparalleled shopping experience in this Roman town.