Suggested excursions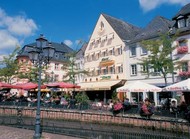 Trier is an ideal base for discovering the countryside and highlights of the Moselle, Eifel, Hunsrück and Saar regions. It is also only a short hop across to Luxembourg, Belgium or France (where Metz and Nancy are towns well worth visiting).
Luxembourg city
The capital of the Duchy of Luxembourg is not far away and this chic, busy yet laid-back city in a picturesque location, is well worth visiting. It is a city of opposites, with the impressive banking district and EU institutions contrasting sharply with the old quarter.
Saarburg
A small medieval town on the river Saar 25 kilometres from Trier, with a castle and a waterfall in the centre of its old quarter.
Central Moselle
The best ways to explore the Moselle downriver from Trier are by boat or by bike. The route takes you past idyllic tranquil wine villages and through Bernkastel-Kues, famous for its picturesque timber-framed houses, as far as Cochem with its imperial castle.
Top of page
Map of Germany
Map showing all of Germany's TOP travel destinations...
Click here!
Search in surrounding area