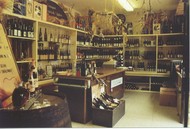 From the Niederwald monument overlooking Rüdesheim you can enjoy a panoramic view of the Rhine and the vineyards, which have made Rüdesheim a famous wine town with its tavern-lined Drosselgasse lane.
Wine and brandy
Riesling – symbol of the Rheingau region, enjoyed as a fine wine or a sparkling
Rieslingsekt
. Sample it at one of the many wine tastings hosted in the vintners' own wine cellars. Discover pinot noir and red wine from Assmannshausen or traditional brandy from the Asbach distillery. As well as a visitor centre and shop, tours can be arranged depending on the season.