Places of interest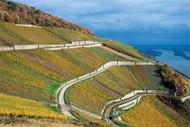 Rüdesheim has many attractions, such as the
Drosselgasse
lined with wine taverns and gardens and the Niederwald monument, depicting the mythical figure of Germania, which can be reached from Rüdesheim and Assmannshausen by foot through the vineyards, or by cable car or chair lift. The ruins of Ehrenfels Castle are in an idyllic location surrounded by vineyards above the Rhine gorge.
Upper Middle Rhine Valley UNESCO World Heritage site
There is a remarkable profusion of prestigious architectural monuments in the region between Bingen, Rüdesheim and Koblenz. With its vine-clad slopes, villages crowded along the narrow banks of the river, a multitude of castles on rocky outcrops, its local cuisine and historical hotels and restaurants, the valley epitomises the romance of the Rhine.
Drosselgasse
This narrow street, just 144 metres long, in the heart of Rüdesheim's old town attracts visitors from every continent. Live music, singing and dancing can be enjoyed in its wine taverns and gardens, open daily from late morning to the early hours.
Niederwald Monument
The monument commemorates the re-establishment of the German empire following the Franco-Prussian War of 1870/71. The main figure is "Germania" holding the imperial crown in her raised right hand and the imperial sword in her left hand. There is a marvellous view from the monument far into the Rheinland-Palatinate countryside.
Top of page
Map of Germany
Map showing all of Germany's TOP travel destinations...
Click here!
Search in surrounding area