Nature & greenery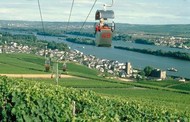 Rüdesheim is set in the varied countryside between the gently rolling Taunus hills and the rugged Loreley Valley, surrounded by a wide expanse of vineyards. The Niederwald country park in the hills above Rüdesheim has numerous vantage points with spectacular views of the Rhine Valley, making it a lovely place to visit.
Niederwald Country Park
Visitors who appreciate the special character of the Rhine Valley with its mild climate will find plenty to see here. The
Zauberhöhle
(enchanted cave) and
Rittersaal
(knight's hall) are just two of the many places with panoramic views of the Rhine Valley.
Rossel folly
The "Rossel" folly is a ruined castle with a magnificent view of the confluence of the Rhine and Nahe rivers and Binger Loch, a narrow section of the Middle Rhine. It will appeal to nature lovers too, as the sunny slopes are the habitat of a large number of butterflies only rarely found north of the Alps.
Top of page
Map of Germany
Map showing all of Germany's TOP travel destinations...
Click here!
Search in surrounding area