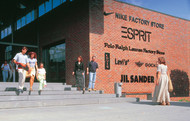 Factory outlet stores are rarely found in the centre of town, as in Metzingen. Hugo Boss, one of the world's leading fashion labels, was the first of many international companies to open an outlet store in Metzingen.
Hugo Boss - the hallmark of outlet shopping in Metzingen
Since the opening of the Hugo Boss factory outlet store in Metzingen in the 1970s, a number of other factory outlets have opened in the town. The Boss factory outlet store is so busy that it even operates a shuttle bus. An increasing number of international labels such as Bogner, Escada and Jil Sander have opened outlets around the Boss store and in a number of other locations, helping to establish the town's reputation as a centre for factory outlet shopping.