Suggested excursions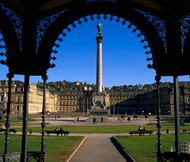 Metzingen is not only surrounded by charming countryside - there are also a number of interesting towns and cities that are ideal for days out. Stuttgart is the leading city of Baden-Württemberg, while the smaller towns of Tübingen and Bad Urach are known for their dreamy romanticism and medieval flair.
Stuttgart
A vibrant city with top-class art and culture, attractive leisure facilities and outstanding shops, Stuttgart is at the centre of one of Germany's foremost economic regions. What's more, the people of Stuttgart really do know how to throw a party - the lively Stuttgart Beer Festival, the traditional Wine Festival and the atmospheric Stuttgart Christmas market are just three of its popular events.
Tübingen
Steep stone steps, narrow alleyways and pointed gables are the hallmarks of Tübingen's old quarter leading up to Hohentübingen Castle. This Swabian university town combines the feel of a lovingly restored medieval town centre with the vibrancy of a youthful student town.
Bad Urach
The delightful little town of Bad Urach with its late medieval centre is surrounded by impressive highland scenery in the heart of the Swabian Alb. Two marked circular walks lead off Bad Urach's market square, taking visitors on a tour of this historical former ducal town. The town's impressive attractions include the late Gothic St. Amandus collegiate church and the 35-metre high Bad Urach waterfall - a stunning natural spectacle.
Top of page
Map of Germany
Map showing all of Germany's TOP travel destinations...
Click here!
Search in surrounding area