Shopping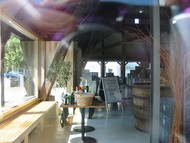 Metzingen is establishing a name for itself around Germany as the place for factory outlet shopping. It all began with the Hugo Boss factory outlet store in the town centre, around which an increasing number of other leading international stores such as Escada and Joop have opened. With an extensive range of goods on offer including designer labels, casual wear, young fashion and toys, the town has become a popular place to shop.
Hugo Boss factory outlet
Hugo Boss was the first leading brand to open a factory outlet store in Metzingen and it has proved a resounding success. Since then, quality and fashion-conscious shoppers have flocked here from Germany and abroad to try on last season's women's and men's collections and seconds at the large Boss store, and to buy them at great discounts. Around 20 other leading international brands including Joop, Escada, Jil Sander and Reebok have also opened outlets close to the Boss store.
Alte Samtfabrik outlet centre and other locations
On the other side of town, you'll find the likes of Bogner and Woick, a supplier of outdoor leisure equipment, in the Alte Samtfabrik outlet centre. All in all, you'll find goods from around 50 brands on sale at factory outlets around the town.
Wine in the town centre
Just a stone's throw from the outlets is the town centre with its historical sights. The town's seven wine presses are evidence of its rich wine-making history. One of the wine presses houses a wine shop selling a range of fine wine and
sekt
(sparkling wine).
Top of page
Map of Germany
Map showing all of Germany's TOP travel destinations...
Click here!
Search in surrounding area