Food & drink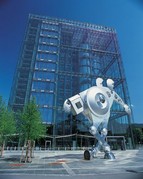 Heidelberg's bar and restaurant scene covers every nuance from modern lifestyle to traditional
gemütlichkeit
. Within this spectrum, taverns, beer gardens and the traditional student pubs in the old quarter have just as much a place as the trendy bars and clubs favoured by the young in-crowd. Heidelberg also has lots of great restaurants serving local and international cuisine and wines from the region.
Schwarz
On the twelfth floor of the Print Media Academy, guests in the stylish penthouse-floor restaurant run by star chef Manfred Schwarz have the whole of Heidelberg at their feet. The innovative overall concept of the cooking, the service, the décor and the location are excellent, as is the use of the freshest top-quality ingredients combined in exciting new ways and subtly fashioned into gourmet dishes with a regional twist.
Kurfürstenstube
Tasteful elegance, fine 19th century wood marquetry, plush seating, silver candelabras and the discreet splendour of the fresh flowers transport guests into another world. Modern cuisine.
"Simplicissimus"
An elegant Art Nouveau restaurant in the old quarter. Inside, dark wood, large mirrors and red fabric wallpaper; outside, a pretty courtyard framed with greenery. The cuisine is based on light French tradition and uses fresh, carefully selected produce to create epicurean delights. The wine list features fine international and regional wines.
Top of page
Map of Germany
Map showing all of Germany's TOP travel destinations...
Click here!
Search in surrounding area