Permanent exhibitions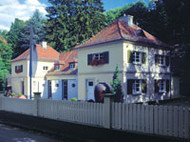 Permanent exhibitions offer interesting insights into the town's history and other specific themes. The German Packaging Museum is Europe's only museum of its kind and is housed in a former church. It presents fascinating exhibits from the history of packaging. The Carl Bosch Museum documents the life of the Nobel prize winner. The Prinzhorn Collection features works by patients of psychiatric institutions.
German Packaging Museum
The museum presents product packaging as a reflection of the cultural development of our society. The diverse functions of packaging are depicted, alongside its historical development.
Carl Bosch Museum
The Heidelberg Museum of Technology covers an area of 300m² plus two outdoor areas, and presents the most fascinating and exciting highlights from the life of Heidelberg Nobel prize winner Carl Bosch (1874-1940).
The Prinzhorn Collection
A unique collection of works by patients of psychiatric institutes assembled by art historian and doctor Hans Prinzhorn between 1919 and 1921.
Top of page
Map of Germany
Map showing all of Germany's TOP travel destinations...
Click here!
Search in surrounding area