Places of interest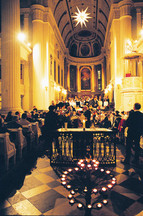 The Renaissance Old Town Hall is where Johann Sebastian Bach signed his employment contract as cantor of nearby St. Thomas's Church. St. Nicholas's Church became known throughout the world in 1989 as the starting point of the "peaceful revolution" which paved the way for the reunification of Germany. Visitors can follow in Goethe's footsteps at Auerbachs Keller restaurant.
Old Town Hall
The Old Town Hall, one of the finest buildings of the German Renaissance, is home to the Museum of City History. Its banqueting hall is used as a venue for concerts and gala events. Definitely worth seeing are the council chamber, the 1823 model of the city, the prison cells and the portrait of Bach. The extensive building was erected in a period of only nine months in 1556/1557, in between two trade fairs.
St. Thomas's Church and St. Nicholas's Church
St. Thomas's is a late-Gothic hall church. The famous St. Thomas's Choir traditionally perform here and it is also where Johann Sebastian Bach is buried. St. Nicholas's, Leipzig's largest and oldest church, is where the "peace prayers" were said in 1989. Along with St. Thomas's, it is another place where J.S. Bach did a great deal of work. It has a large, four-manual organ. Many of Bach's important compositions were first performed here.
The Battle of Leipzig monument
This is Germany's largest monument. It has a 91-metre-high observation platform and was built to commemorate the Battle of Leipzig between the allies and Napoleon's troops in 1813. It is being rededicated as a monument to European peace. There are guided tours, choral concerts, open-air events, special exhibitions and an exhibition about the history of the Battle of Leipzig monument in the hall of honour.
Top of page
Map of Germany
Map showing all of Germany's TOP travel destinations...
Click here!
Search in surrounding area