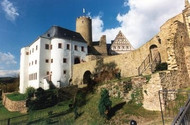 Saxony's castle and heathland region can look back on a 1,000-year legacy of architecture and art, technical monuments, traditional crafts and established customs. Here, the Zwickauer Mulde and Freiberger Mulde rivers flow through romantic valleys and the Düben Heath and Dahlen Heath nature reserves form an extensive area of woodland. This romantic region is situated between the cities of Chemnitz and Leipzig and the valleys of the Striegis, Zschopau and Mulde rivers and their confluences.
Against the backdrop of this charming heathland scenery, you'll find a number of castles full of German Romantic tradition, and great cultural and historical importance. There are an impressive number of ways in which you can explore Saxony's history or simply enjoy the enchanting countryside. The Saxon Electors discovered early on that these gently rolling hills with their tranquil forests were the perfect hunting ground. Today, mushroom collectors and berry pickers follow in their footsteps.
1,000 years of history have been written here along a 100-km stretch of river. 140 magnificent castles with their own particular charm, manor houses, palaces, stately homes and churches covering all the different periods of the last century line up like pearls on a string, fitting in surprisingly well with the charming surrounding countryside and turning this valley into a real gem. Dating from the beginning of the 14th century, Burg Kriebstein is considered to be the region's best preserved castle. But many of the other castles and palaces that sit majestically overlooking the river Zschopau are also shrouded in legends and well worth exploring.
For a truly memorable experience, try a visit to Scharfenstein Castle, Sachsenburg Castle, Lichtenwalde Palace and Park, or Augustusburg Palace. Many of these castles and palaces are used as venues for Central Saxony's annual "Summer of Culture" festival. There's certainly little chance of getting bored here. You can enjoy some great tours in the Valley of Castles, whether on foot, by boat or by bike. And if you prefer going on horseback, there are also a number of stables to choose from.