Events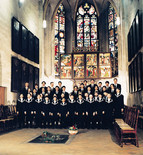 Traditional-style cultural events take place at venues such as the Gewandhaus concert hall, the opera house and St. Thomas's Church. Large-scale events are also held at other historical venues such as the Moritzbastei club, the Battle of Leipzig monument and the park stage.
Gewandhaus Mendelssohn Festival
Every year the Gewandhaus Mendelssohn Festival is a real highlight in Leipzig's musical life. It is a very special opportunity to hear works by Felix Mendelssohn.
Leipzig Bach Festival
The Leipzig Bach Festival, which takes place every year around Ascension, is the highlight of the events devoted to the most famous
kantor
of St. Thomas's Church in the city where he worked for so many years. Musicians of international acclaim perform in various venues associated with Bach.
Leipzig Book Fair
The Leipzig Book Fair is very much aimed at the general public and offers a "book experience" of a very special kind. In association with the "Leipzig Reads" festival, whose emphasis is on literature, the Leipzig Book Fair has a selection of exhibition areas arranged in themes such as young people's literature, comics, audiobooks and travel.
Top of page
Map of Germany
Map showing all of Germany's TOP travel destinations...
Click here!
Search in surrounding area