Art & culture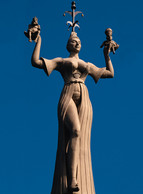 As Lake Constance is on the border of Switzerland, Austria and Germany, the art and cultural scene in its largest town has many different influences.
Arts Centre at the Minster
The Constance Arts Centre is located in a distinctive red building directly opposite the minster. As well as housing the Wessenberg Gallery, the Arts Centre is also home to the Arts Association (
Kunstverein
), an adult education centre, the municipal library and Constance Culture Office. The café restaurant in the medieval courtyard is a great place to relax.
Imperia sculpture
Imperia is a nine metre high statue by the sculptor Peter Lenk that weighs 18 tonnes. The revolving stone figure is set on a tide-gauge plinth at the entrance to the harbour. It relates to the stories by the French author Honoré de Balzac (1799-1850) about "The Fair Imperia" which are set at the time of the Council of Constance.
Top of page
Map of Germany
Map showing all of Germany's TOP travel destinations...
Click here!
Search in surrounding area