Museums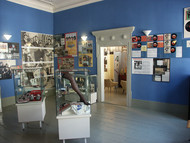 Halle has a number of interesting museums. For lovers of music, there's Handel's House or the Beatles Museum, while those interested in the history of salt production and its importance to the region will find plenty of information at the town's saltworks and salt-panning museum (Technischen Halloren- und Salinemuseum).
Regional Museum of Pre-History
*Closed until spring 2008.*
The State Museum's archaeological collection from the Palaeolithic and Mesolithic ages is one of the oldest and most comprehensive of its kind in Europe, and its two specialist libraries are among the largest in Germany. The museum offers everything from guided tours and discussions to project activities, weekend workshops and archaeological excursions. Video presentations and special events for disabled people on request. Closed on Mondays.
»
Further information
Handel's House
After extensive restoration and building work, the 16th century house where Georg Friedrich Handel was born became the town's music museum in 1948. In addition to exhibitions relating to the famous composer from Halle, the museum also has collections of historical musical instruments and information about the region's musical history.
Beatles Museum
Housed in the baroque palace (Stadtpalais) on Alter Markt, this museum is dedicated to the legendary rock band from Liverpool. The exhibition documents the life of The Beatles from the time before the band formed until they split, as well as the solo careers of individual band members.
Technisches Halloren- und Salinemuseum
Once the site of the Royal Prussian Saltworks, the museum documents the history of salt extraction through boiling and shows the major role that the salt industry played in this town on the river Saale.
Top of page
Map of Germany
Map showing all of Germany's TOP travel destinations...
Click here!
Search in surrounding area