Suggested excursions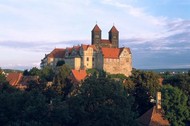 Places to visit in the area around Halle include Quedlinburg and Lutherstadt Wittenberg - both UNESCO World Heritage sites. Other popular excursion destinations include the nearby city of Leipzig and a tour following in the footsteps of the Ottonian emperors along the Romanesque Route.
Quedlinburg
With around 1,300 half-timbered houses originating from a period of over seven centuries as well as its art nouveau architecture and the completely intact medieval town structure, Quedlinburg is one of the largest preservation areas in Germany. The Collegiate Church of St. Servatius with its famous cathedral treasury and St. Wigbert's Crypt are considered masterpieces of Romanesque architecture.
Wittenberg
Melanchton's House, the municipal church and the castle church all reflect the important role that Wittenberg played during the Reformation. These Luther memorials, all UNESCO World Cultural Heritage sites, are popular attractions, and not just with those interested in culture.
Leipzig
Leipzig has been an important influence in European commercial and intellectual life for centuries, and its sights are all part of the Leipzig experience. Historical shopping arcades, lovingly restored, are typical of the architecture in the city centre. There are great shops, a vibrant cultural scene and lively bars that stay open very late, all within a relatively small area.
Top of page
Map of Germany
Map showing all of Germany's TOP travel destinations...
Click here!
Search in surrounding area