Places of interest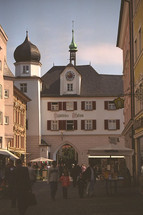 Rosenheim can look back on a long history stretching back to the Romans, who built a bridge here over the river Inn and set up a military base. Over the centuries the town has developed into a particularly delightful centre of commerce and culture in south-east Upper Bavaria. The Mittertor gate is a reminder of Rosenheim's long and exciting history and is also home to the municipal museum. The onion dome of the Parish Church of St. Nicholas is the town's landmark.
Max-Josefs-Platz
Max-Josefs-Platz was formerly the inner market place. Since the major fire of 1641, it has been lined by magnificent town houses in the Inn-Salzach style, handsome patrician houses with all the characteristics of this architectural style: arcades and arbours, internal vaults, oriel windows and butterfly roofs. The square is a blend of different architectural styles, from late-Gothic portals and vaulted cellars to baroque gables and features of the early and late rococo periods.
Mittertor gate
The Mittertor gate is Rosenheim's only surviving market gate. Until 1350 it was the market square's east gate. From the 15th century onwards it divided the inner and the outer market places and was also an administrative building. The onion tower was added in 1641 and the long wing was also altered at a later date. The core part of the gate is the oldest structure in Rosenheim. Today it houses the municipal museum whose remarkable collection illustrates the history of the town from Roman times to the present day.
Parish Church of St. Nicholas
Originally a late-Gothic building with a tower shaped like a pointed helmet, the Parish Church of St. Nicholas was so badly damaged by the major fire of 1641 that it was replaced in the 17th century with a new church with an onion tower, now Rosenheim's landmark. The interior has been altered on a number of occasions, in keeping with the spirit of the age, and is now a blend of various historical styles. The oldest and most significant art work in the church is the Madonna of 1514.
Top of page
Map of Germany
Map showing all of Germany's TOP travel destinations...
Click here!
Search in surrounding area