Conferences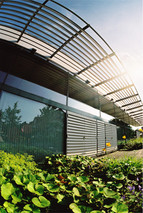 It is not only Rosenheim's proximity to the trade fair city of Munich, but also its convenience for important economic regions in Italy and Austria that make it such an attractive congress town. Rosenheim Congress Centre is modern, spacious and offers sophisticated meeting facilities.
Cultural and Congress Centre
Rosenheim Cultural and Congress Centre, or KUKO for short, is just a few minutes' walk from the railway station. It is surrounded by the leafy municipal park. The exhibition space, including several halls and foyers, can be tailored to requirements and can accommodate over 2,000 people in total. Conference rooms are fully equipped with cutting-edge stage, sound and lighting systems.
Contact:
Rosenheim Cultural and Congress Centre
Kufsteiner Strasse 4
83022 Rosenheim
Email:
info@kuko.de
Website:
www.kuko.de
Top of page
Map of Germany
Map showing all of Germany's TOP travel destinations...
Click here!
Search in surrounding area