Museums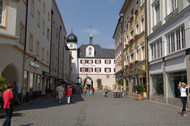 Rosenheim has always been deeply influenced by the river Inn and by the art of woodworking, and visitors soon notice that these are still very important to the town. The Inn Museum and the Museum of Wood Technology offer detailed, approachable presentations about the historical and the present significance of the river Inn and the woodworking process.
Inn Museum
The Inn Museum is in a former barn beside the Inn bridge. On display are a wide range of original objects that vividly illustrate navigation on the river Inn down the centuries. The museum also has extensive presentations about river landscapes, river engineering, geology, the history of settlement, shipbuilding and bridge building.
Museum of Wood Technology
The Museum of Wood Technology is in the Ellmaierhaus, a listed site of historical interest, on Max-Josefs-Platz. The museum's exhibition (over 400m²) illustrates the versatility of wood and the many different ways it can be worked and processed. It is not only the end products that are on show; the museum also explains the methods, tools, skills and crafts used in their production.
Top of page
Map of Germany
Map showing all of Germany's TOP travel destinations...
Click here!
Search in surrounding area