Places of interest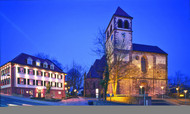 The town of Pforzheim, the northern gateway to the Black Forest, has suffered great loss during its history. In February 1945 the whole town centre was destroyed and a third of the population died as a result of Second World War bombing raids. Despite its difficult past the medieval "gold town" has much to offer visitors with its unique combination of gold, high technology and design.
Wallberg hill and memorial steles
Wallberg hill is not only popular with locals for its stunning views over the town, which are equally wonderful at night, but also for its romantic atmosphere. The hill was built from the rubble of the town following the Second World War and is known locally as "Monte Scherbelino" ("fragment mountain"). In memory of the victims of Pforzheim and the bombing raids, illuminated memorial steles were officially unveiled on Wallberg hill on the 60th anniversary of the town's destruction.
Reuchlinhaus Arts Centre and Jewellery Museum
Reuchlinhaus Arts Centre is located in Pforzheim's municipal park and is a special kind of cultural forum. Constructed in the mid-20th century, it is primarily a monument to the town's most famous and important son, the humanist Johannes Reuchlin. The Pforzheim Jewellery Museum is housed in rectangular pavilions in the foyer of the building.
Castle and collegiate church of St. Michael
The protestant castle and collegiate church of St. Michael is located above the town centre on Schlossberg hill and is Pforzheim's most important architectural monument. One of the oldest parts of the church is the late-Romanesque west wing which was built in around 1219 and whose vaulted stepped portal is similar in style to the portal at Maulbronn Monastery. From 1535 onwards the church became the final resting place of the protestant line of the Margraves of Baden. The church and the adjacent "archive tower" (
Archivturm
) are the only remaining medieval buildings in Pforzheim.
Top of page
Map of Germany
Map showing all of Germany's TOP travel destinations...
Click here!
Search in surrounding area