Events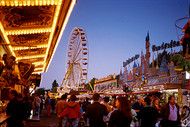 Whether it's the funfair, the wine festival or the Christmas market, Pforzheim has something to offer visitors whatever the time of year. Each of these events has its own unmistakable character and is an unforgettable experience. In June, the Pforzheim fair draws people to Messplatz square with its rollercoasters and popcorn stands. Just two months later vintners stage the "Oechsle" wine festival on the market square, and in the winter months the Christmas market creates a festive atmosphere on and around the market square and the pedestrian area.
Pforzheim fair
The Pforzheim fair, held every June, is the festival highlight of the year. Messplatz square is filled with around 120 stallholders from the whole of Germany. Apart from rollercoaster and Ferris wheel rides, visitors can also enjoy a host of different special events such as a church service in a marquee and a fireworks display.
"Oechsle" wine festival
For twelve days every August people of all ages meet in the market square to celebrate the Pforzheim "Oechsle" wine festival. During the festivities visitors can try around 180 Badensian and Swabian dishes and 200 different kinds of wine from the whole of Baden-Württemberg. There is also musical entertainment provided by bands from across the region.
Christmas market
The Pforzheim Christmas market creates a festive atmosphere at the end of the year with around 70 stalls on and around the market square and part of the pedestrian area. You can buy Christmas spices, tea and
lebkuchen
as well as decorations for the tree and nativity scenes.
Top of page
Map of Germany
Map showing all of Germany's TOP travel destinations...
Click here!
Search in surrounding area