Art & culture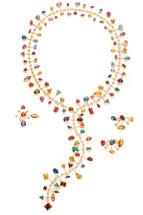 Art and culture are an integral part of life in the gold town of Pforzheim. In 1767 the first watchmaking and jewellery factory was founded here and around 100 years later one of the first schools of arts and crafts was opened in the town. If you want to learn more about Pforzheim's history we recommend a visit to the Kappelhof archaeological site. The town also has numerous exhibitions on the history of jewellery as well as some contemporary art galleries.
Kappelhof archaeological site
This archaeological site was opened in the mid-1990s and is a showcase of Pforzheim's history. It features relics dating back 2,000 years which give insights into the town's development. The exhibition contains ruins, the remains of underfloor heating and a well shaft, and in the adjoining permanent exhibition there is a fascinating collection of small finds from excavations in the town.
Schmuckwelten jewellery centre
This is a unique shopping and information centre at the heart of Pforzheim with over 4,000 square metres devoted to the world of jewellery. Using state-of-the art technology, the centre gives visitors an insight into the history of the region's watchmaking and jewellery industry. At "Mineral World" you can marvel at more than 5,000 minerals from around the globe. You can also watch goldsmiths and watchmakers at work as they show off their skills to the public.
Jewellery Museum
Pforzheim Jewellery Museum is a fascinating place to visit to see its high-carat collection of precious objects. Antiquity and the Renaissance and art nouveau periods are the focal points of the exhibition. However there are also collections of modern and ethnographic jewellery. You can learn all about the development of occidental jewellery from the 3rd millennium BC to the present day.
Top of page
Map of Germany
Map showing all of Germany's TOP travel destinations...
Click here!
Search in surrounding area