Nature & greenery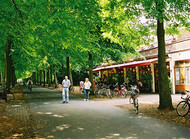 Besides its botanical garden, which is more than 200 years old, Münster also has the Promenade, a tree-lined path that forms a complete circle of green around the old town, and is unique within Europe. The Promenade also leads to Lake Aasee, the ideal place for relaxation and recreation. The all-weather zoo is home to an incredible variety of animals, some of which can be fed by visitors.
Botanical Garden
The Botanical Garden is part of the science faculty at the Westphalian Wilhelms University in Münster. Used mainly for research and teaching purposes, it also provides an oasis of rest and relaxation in the heart of the city where people can come to discover and enjoy nature.
All-Weather Zoo, Münster
With around 4,000 animals living in beautiful, natural enclosures, the all-weather zoo is a paradise for any animal lover. Highlights include the events at the dolphinarium. If you want to know how elephants are fed, you can find out at Münster zoo. The covered "all-weather" walkways protect visitors from the elements. There are also some lovely picnic spots under the big shady trees.
Lake Aasee
With its promenades, lawns, play areas and two small harbours, this 40-hectare reservoir on the edge of the city centre is a popular place offering recreation, sports and other activities for the people of Münster and visitors alike. In the parks around the lake there are works from three international sculpture exhibitions. On the northern shores of the lake you'll see the eye-catching Giant Pool Balls - three massive billiard balls made of concrete that were created by Claes Oldenburg for the first "Sculpture" exhibition in 1977.
Top of page
Map of Germany
Map showing all of Germany's TOP travel destinations...
Click here!
Search in surrounding area