Food & drink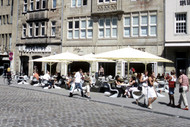 Typical Westphalian cooking is served at the Grosser Kiepenkerl and Kleiner Kiepenkerl restaurants and at the Altes Gasthaus Leve. The Kuhviertel quarter attracts students, the young crowd and lovers of rustic Westphalian cuisine. The Kreativkai complex by the harbour has everything from cool places to see and be seen, to jazz clubs and quality mediterranean cooking in a stylish atmosphere.
Altes Gasthaus Leve
The Altes Gasthaus Leve dates back to 1607, long before the Treaty of Westphalia was signed, making it Münster's oldest inn. Alongside soups and snacks, the menu mainly consists of typical Westphalian specialities.
Villa Medici
Situated near the city's ring road, the Villa Medici serves exclusive Italian cuisine. This elegant designer restaurant is also known for its fine wines.
Kreativkai
The Kreativkai in Münster's harbour fills the heart of this Westphalian city with life. In addition to publishing companies, agencies, printing companies and a theatre, the complex offers a broad selection of restaurants including the "Luf" and "Pier House", or the nearby "Blechtrommel" serving French and Westphalian cuisine.
Top of page
Map of Germany
Map showing all of Germany's TOP travel destinations...
Click here!
Search in surrounding area