Places of interest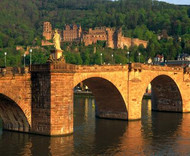 The world-famous Heidelberg Castle towers above the old quarter. Writers, poets and thinkers have strolled along the Philosophers' Walk and enjoyed the idyllic views over the town. The past is brought to life in the old quarter; ancient and modern treasures are just waiting to be discovered in its alleyways.
Heidelberg Castle
The ruins of Heidelberg Castle rise majestically on the site of a medieval castle complex high above the lanes and the picturesque jumble of roofs of the old town. The architecture contains elements of the Gothic and Renaissance periods. The castle gardens, the Great Vat (the world's largest wine barrel) and the remarkable Pharmacy Museum are also worth a visit.
The Old Town and the Old Bridge
Visitors are captivated by the romantic charm of the old quarter with its maze of little streets. Hauptstrasse is one of Europe's prettiest pedestrian precincts and shopping streets, and the student district is packed with trendy bars and pubs. One section of the town wall, the medieval bridge gate, has been preserved. The predecessors of the current Old Bridge (
Alte Brücke
) were made of wood, but because they were repeatedly destroyed by flood, ice or fire, Elector Karl Theodor ordered the current stone bridge to be built (1786-1788).
University
On 24 June 2021 the foundation stone for Germany's oldest university, the building of the present "Old University" was laid. The "Lion Fountain" on the square in front of the university is a popular meeting place. Behind the university is the student
karzer
, the cells where, between 1778 and 1914, the university administration jailed students for minor offences.
Top of page
Map of Germany
Map showing all of Germany's TOP travel destinations...
Click here!
Search in surrounding area