Conferences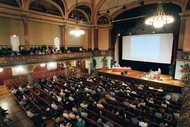 Heidelberg's long and distinguished history has also left its mark on the various different conference centres, and adds a touch of glamour to any occasion. Planning an event? The Heidelberg Convention Center, the Eurescom Conference Centre and the Portland Forum in Herrenberg boast a comprehensive range of services and have years of experience in organising successful events.
Heidelberg Convention Center
For decades now, the Heidelberg Convention Centre has been staging innovation fairs, international symposiums and conferences of all kinds. The exceptional exterior architecture draws you inside, where alongside the main hall that can accommodate up to 1,250 people, you'll find 14 other meeting rooms and an in-house catering service.
Eurescom Conference Centre (ECC)
Situated in one of the prettiest areas of the town, the Eurescom Conference Centre is a fully-equipped venue with services for all of your event requirements. The complex, which can host events with more than 100 participants, comprises a modernised villa and a recently added extension, making it one of the most prestigious event venues in Heidelberg.
Portland Forum in Herrenberg
This enchanting historic building underwent extensive renovation in the mid-1990s and now hosts conferences, meetings and seminars. Equipped with cutting-edge communications technology, a stage, lighting systems, sound systems as well a catering service, it is suitable for events with over 650 people as well as smaller meetings in more intimate spaces.
Contact:
Heidelberger Kongress und Tourismus GmbH
Ziegelhäuser Landstrasse 3
69120 Heidelberg
Email:
info@cvb-heidelberg.de
Website:
www.cvb-heidelberg.de
Top of page
Map of Germany
Map showing all of Germany's TOP travel destinations...
Click here!
Search in surrounding area