Nature & greenery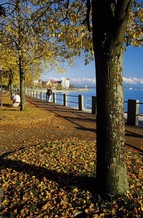 The beauty of the surrounding countryside, Lake Constance and the proximity to the Alps are what make Friedrichshafen such a lovely place to spend time. A refreshing dip in the lake, a boat trip or a stroll along the promenade? Or why not do all three.
The Lake Constance Trail and Eriskircher Ried Nature Centre
Stroll around the Eriskircher Ried nature centre or along Friedrichshafen's promenade and learn about the animals, plants and other natural attractions of the Lake Constance landscape. The starting point in Eriskirch is the Nature Conservation Centre in the former railway building on the edge of the largest nature conservation area on the northern shore of Lake Constance.
Lakeside promenade
The lakeside promenade in Friedrichshafen is one of the longest and loveliest on Lake Constance. A stroll from the mouth of river Rotach to the palace church (
Schlosskirche
) affords glorious views of the lake and of the Austrian and Swiss Alps.
Top of page
Map of Germany
Map showing all of Germany's TOP travel destinations...
Click here!
Hotels in Friedrichshafen
Search in surrounding area