Events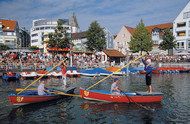 Friedrichshafen's many attractions include a diverse cultural scene. In the summer months there are open-air festivals on the promenade.
International Lake Constance Festival
Spirituality and a zest for life. Events staged jointly by several towns and villages around Lake Constance promote cross-border cultural exchange. Delicious regional specialities combined with delightful performances make this a very special festival.
Kulturufer Festival
The Kulturufer Festival takes place on the shore of the lake. Every year in the summer months of July and August, the ten-day tent festival entertains young and old alike with its multitude of concerts, cabaret and street performers.
Seehase Festival
Children's festival and local festival with a diverse programme of culture and entertainment including a grand firework display over the lake on Saturday and a festival procession on Sunday. The "lake rabbit" distributes a goody bag full of sweets to children in their first year at school - a tradition dating back 50 years.
Top of page
Map of Germany
Map showing all of Germany's TOP travel destinations...
Click here!
Hotels in Friedrichshafen
Search in surrounding area