Events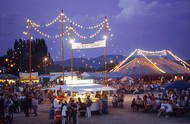 From music festivals to Carnival to wine festivals, Freiburg's numerous festivals and fairs offer something for every taste - there truly is never a dull moment.
International Tent Music Festival
For three weeks the tent city hosts an unparalleled line up of acts, with rock, pop, jazz, blues, classical, dance and variety shows.
Alemannic Carnival
The fun and games that go on during carnival season are enough to make anyone stop and stare. Witches, devils and carnival fools run through Freiburg's streets and, on Carnival Monday, don their scary wooden masks and line up with the carnival guilds ready for the grand procession. Watching the weird, sometimes sinister, sometimes grinning masks march past, it's easy to believe you're in a different, archaic world.
Freiburg Wine Festival
Freiburg Wine Festival: wine cooperatives and winegrowers host a six-day food and wine festival on Münsterplatz. This is a fantastic opportunity to sample the famous Baden wines and local specialities.
Top of page
Map of Germany
Map showing all of Germany's TOP travel destinations...
Click here!
Search in surrounding area