Permanent exhibitions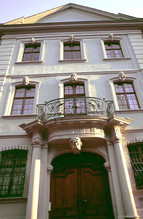 Freiburg's history is told in Wentzinger House, the municipal history museum on Münsterplatz (minster square). The Carnival Museum explains the background and the traditions of the Alemannic carnival. The Adelhauser Museum is a museum of ethnology and natural history.
Wentzinger House - Municipal History Museum
The historical Wentzinger House, named after the well-known late-baroque Freiburg artist Christian Wenzinger, houses the municipal history museum. Artworks, documents and archaeological finds document the history of the town.
The Carnival Museum
The "Haus Zum Grünen Jaspis", home of the Breisgau carnival guild, illustrates the history of Carnival from its medieval origins to its present-day Alemannic incarnation.
Adelhauser Museum
In the ethnology section, a selection of items from everyday life, art and religion paints a picture of how non-European peoples live. The natural history section offers an insight into domestic and exotic animals and plants. The precious stones collection, the minerals and fossils collection and the bird room are particularly popular with visitors.
Top of page
Map of Germany
Map showing all of Germany's TOP travel destinations...
Click here!
Search in surrounding area