Food & drink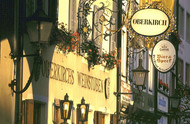 Freiburg specialities include beef with horseradish sauce, beetroot and boiled potatoes, liver with fried potatoes, roast shoulder of pork with
sauerkraut
and
Schupfnudeln
, a crisp-brown potato preparation. The highpoint of the culinary year begins in April and lasts two months. This is when the restaurants serve the "king of vegetables": asparagus from Tuniberg. Ideally served with a drop of local white wine.
Hirschen
A traditional Baden country inn with dark rooms and a large central bar. The service is friendly and the menu contains Badensian specialities.
Zirbelstube L'Art de Vivre Restaurant
Stylishly appointed dining rooms create an elegantly rustic ambience in which gourmets can indulge in fine French and mediterranean cuisine.
Enoteca
A modern restaurant where you can feel at home and enjoy Italian cooking.
Top of page
Map of Germany
Map showing all of Germany's TOP travel destinations...
Click here!
Search in surrounding area