Places of interest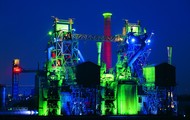 "Duisport", as the city with the largest river port in Europe is also known, has a variety of attractions for visitors to enjoy. With its Duisburg-Nord Industrial Landscape Park, this "steel heart" in the centre of Europe has created a cultural and leisure facility that is unique in Germany. The area of the city around the former inner port is popular with boating enthusiasts, in particular, who flock here to explore its canals. Thanks to the famous sculptor Wilhelm Lehmbruck, the city's oldest house is now a place where young artists can live and work.
Duisburg-Nord Industrial Landscape Park
The Thyssen AG Roheisen iron and steel works remained in operation until the mid 1980s. Ten years later, the 200-hectare industrial site was turned into a park with various leisure, recreational, sports and cultural facilities, attracting more than 500,000 visitors a year to this city on the banks of the Rhine and Ruhr rivers. An industrial heritage trail leads visitors through the extensive site, which features an educational farm, gardens, meadows and stretches of water. Highlights include the chance to climb up a blast furnace to enjoy panoramic views of the park as well as a visit to the converted gasometer, Europe's largest man-made diving centre.
Innenhafen (inner port)
Formerly known as the "Ruhr area's granary", this is now one of the most charming parts of Duisburg. Once an important hub for all manner of goods, filled with grain silos and mills, the inner port has undergone a significant amount of preservation and restoration work. Today, it is a vibrant residential area with offices, cultural attractions and a variety of entertainment and leisure facilities. The marina also has more than 130 mooring points for boating enthusiasts.
Dreigiebelhaus (three-gabled house)
Dating from the middle of the 16th century, this house gets its name from the three stepped gables that adorn it. Since the middle of the 20th century, it has been owned by Duisburg city council who, as part of a project to promote the arts, have invited young artists to live and work here. It is the oldest surviving house in Duisburg.
Top of page
Map of Germany
Map showing all of Germany's TOP travel destinations...
Click here!
Search in surrounding area