Art & culture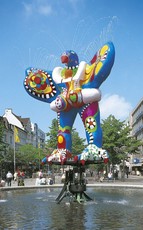 Duisburg also has plenty of treats in store for lovers of art and culture. You can learn all about the city's history at the Cultural and City History Museum at the inner port. Covering an area of 5,000 square metres, the Lehmbruck Museum depicts the wonderful world of sculpture, while the company of the "German Opera on the Rhine" performs a variety of opera and musicals at the city theatre.
Cultural and City History Museum
The museum is housed in a former grain store and mill at Duisburg's inner port. In the red clinker building, you can learn about the history of the city from the early Middle Ages to the modern day, as well as about cultural heritage on the Lower Rhine and the history of settlements in Duisburg. The Mercator treasure chamber is of national importance. It includes the terrestrial and celestial globe designed by the famous cartographer, Gerardus Mercator (1512-1594).
Lehmbruck Museum
The Lehmbruck Museum was built by one of the famous sculptor's sons, the architect Manfred Lehmbruck (1913-1992), and has one of Europe's finest collections of international 20th century sculpture. Visitors can see a total of approx. 500 works by more than 200 artists from around the world set in an exhibition space of 5,000 square metres. These include around 300 sculptures on display in themed rooms.
"Lifesaver" Fountain
The "Lifesaver" fountain on Königstrasse is now one of Duisburg's most famous landmarks. This colourful work of art, created as a joint project by the artists Niki de Saint Phalle and Jean Tinguely, captivates passers-by with its water-spouting fantasy figure.
Top of page
Map of Germany
Map showing all of Germany's TOP travel destinations...
Click here!
Search in surrounding area