Events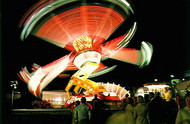 Duisburg is known throughout Germany as the home of several annual festivals that have shaped the cultural scene of the city and region. In addition to the "Duisburger Akzente" (Duisburg highlights) festival, these include the Traumzeit (Dreamtime) Festival and the Beeck Fair, which takes place every August.
"Duisburger Akzente"
The "Duisburger Akzente" (Duisburg highlights) festival takes place every spring. Covering every art form and supported by a range of bodies and organisations, the festival focuses on a different cultural or political theme every year. Lasting for several weeks, this festival of culture attracts visitors from all over the region and offers a wide variety of events.
Traumzeit (Dreamtime) Festival
Covering everything from jazz and ethnic music to classical music and pop, this three-day festival of world music has something to suit every taste. The characteristic feature of this festival is the link it creates between various musical highlights and the coal and steel industry that is still so dominant in the region. The festival takes place at Duisburg-Nord Industrial Landscape Park.
Beeck Fair
The largest fair on the Lower Rhine with 230 rides takes place every August in Duisburg. The fair was originally held by the Beecker Oberhof church in the 9th century. Today it is the perfect opportunity for people of all ages to get together and enjoy a
Fisternölleken
- schnapps with sugar and raisins.
Top of page
Map of Germany
Map showing all of Germany's TOP travel destinations...
Click here!
Search in surrounding area