Conferences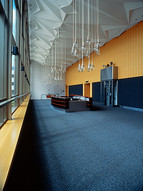 Whether you are organising a small seminar or a large event, you are certain to find a suitable venue in Cottbus. In addition to the Messe Cottbus and Stadthalle Cottbus, there are a number of other conference and seminar facilities to choose from. CMT Cottbus can help with the organisation of your event, covering everything from event design and budgeting to marketing, accommodation and participant services.
Stadthalle Cottbus
The Stadthalle Cottbus, Brandenburg's largest events centre, is situated between the historical and modern areas in the heart of Cottbus. The large auditorium holds up to 2,000 people and is equipped with state-of-the-art conference and communication technology. In addition, the Stadthalle has three seminar rooms and a spacious foyer. All of the rooms can be arranged as required and fitted with a speaker's platform.
Messe Cottbus
Set in the riverbank meadows along the Spree, Messe Cottbus is a modern exhibition complex offering an excellent venue for trade fairs, conferences and congresses. With flexible, multifunctional exhibition areas that can hold up to 3,000 people for events and up to 5,000 people for concerts, the centre provides the ideal setting for any type of convention. An experienced team is on hand at all times to help out with ideas for your event.

Conctact:
CMT Cottbus Congress, Messe & Touristik GmbH
Vorparkstrasse 3
03042 Cottbus
Email: cottbus-service@cmt-cottbus.de
Internet: www.cottbus.de
Top of page
Map of Germany
Map showing all of Germany's TOP travel destinations...
Click here!
Search in surrounding area