Suggested excursions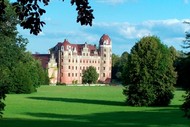 Cottbus is ideally situated for excursions to a variety of destinations. You can visit the cities of Berlin and Dresden or spend the day exploring the natural attractions in the surrounding area, such as the nearby Spree Forest. If it's relaxation you are looking for, you could try a walk in Muskauer Park - a UNESCO World Heritage site. Alternatively, you can enjoy a more unusual tour at one of the many mines that are typical of the region.
Spree Forest
The Spree Forest covers a network of more than 1,000 km of waterways and around 300 rivers. This remarkable area of woodland and water has been recognised by UNESCO, which has developed a number of concepts for protecting the wetlands. The Spree Forest provides a habitat for numerous species of animals and plants including a certain type of cucumber - a regional delicacy. For a special treat, visitors can explore the area on one of the flat barges that have been used as a means of transportation on the region's many waterways for centuries.
F60 Visitor Mine
The F60 visitor mine near Lichterfeld close to the Bergheider See lake tells the history of brown coal mining in Lusatia. The conveyor bridge - a giant piece of machinery - is one of the world's largest movable objects. Visitors can now enjoy wonderful views from the observation platform, which is 75 metres off the ground. This colossal piece of industrial heritage is known locally as the "horizontal Eifel tower".
Muskauer Park
A UNESCO World Heritage site, Muskauer Park in Upper Lusatia was created by Prince Hermann von Pückler-Muskau. The largest English-style country park in central Europe covering a total area of 750 hectares, it was the forerunner of a new landscape design movement in towns. Two thirds of the park lie to the east of the River Neisse in Poland. The park's attractions include the old and new castles, the historical tropical house with its cacti, the
Kavalierhaus
- now a peat spa, the spa park and hillside park, and the Moorish-style orangery.
Top of page
Map of Germany
Map showing all of Germany's TOP travel destinations...
Click here!
Search in surrounding area