Nature & greenery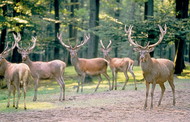 The earth has retained signs of its fiery past here more than anywhere else in Germany. Nature is at its most wondrous in the Eifel National Park. Discover maars, magma and bubbling springs along the Lieser Trail, or head to the ever-popular Daun wildlife park on the German Game Route.
Eifel National Park
Covering an area of around 10,700 hectares, this National Park is a true natural paradise. Discover majestic beech forests and gnarled oaks, and watch tumbling brooks flow through the steep, narrow valleys that form verdant, wooded gorges. The park boasts an extensive network of marked trails, ideal for exploring its flora, fauna and places of interest. Experience nature at its very finest with a liberal sprinkling of history.
The Lieser Trail
The Lieser, a small river in the Eifel, rises at Beinhausen and flows into the Moselle at the town that shares its name. The Lieser Trail takes you past countless aerated springs and over long-cooled lava flows. Cross the river on wooden bridges, tackle steep rocky paths reminiscent of alpine passes and follow bend after bend in this beautiful natural wilderness. Along the Lieser Trail enjoy spectacular views over the forest hills, as you follow the river's meandering path towards the Moselle.
Daun wildlife park
Discover nature in all its glory in Daun wildlife park, an enormous woodland area with streams, clearings and thickets. From the comfort of your own car you see animals living in the wild, including red deer, fallow deer, mouflon sheep, wild boar, yaks and Dybowski's Sika deer. There is also a monkey enclosure, home to more than 40 free-roaming Barbary macaques.
Top of page
Map of Germany
Map showing all of Germany's TOP travel destinations...
Click here!
Search in surrounding area