Art & culture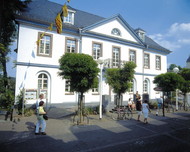 The Eifel has a host of rare treats in store for art enthusiasts and culture lovers, with diverse attractions covering everything from the beginnings of Earth's history to the modern age. Make a volcano erupt at the touch of a button in the Volcano Museum, or discover the dazzling array of castles and palaces found along the Gottfried von Bouillon Route.
Daun Castle
Daun Castle dates back to 1000AD. In 1352 the castle, the surrounding castle buildings and the town were destroyed on the command of the archbishops of Trier and Cologne. In 1407 the once powerful Daun dynasty came to an end and the archdiocese of Trier took control of the castle. All that remains of the medieval castle are the outer gate with the guardhouse, sections of the ring wall and a bastion tower. The Old Elector's House, built for Elector Karl-Joseph in 1712 by the Trier court architect Ravenstein, and the neo-Gothic Protestant church from 1863 are also found within the castle walls.
Volcano Museum
Housed in one of Daun's former official buildings, this museum is a valuable accompaniment to the existing geological discovery paths. Alongside an array of information boards, photos and exhibits from the Volcanic Eifel and still-active volcanoes in Europe and Asia give an insight into the geological development of the Volcanic Eifel. In the exhibition rooms there are also interactive computer models that illustrate the geological and volcanic origins of the Eifel region. The Volcano Museum is one of the geological museums of the Volcanic Eifel European Geology Park.
Gottfried von Bouillon Route
Castles, palaces, abbeys and fortresses have shaped the development of the Eifel landscape. Indeed the region has one of the highest densities of castles in Germany. With a wealth of history at every turn, this European castles route will take you to the most fascinating and important places of interest in the Eifel region.
Top of page
Map of Germany
Map showing all of Germany's TOP travel destinations...
Click here!
Search in surrounding area