Suggested excursions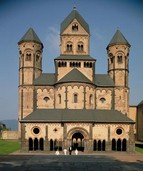 There are so many great days out on hand in the Eifel region, the north-western range of the Rhenish Slate Mountains. Nürburgring, with its legendary northern circuit known as the "green hell", can look back on 75 years of motorsport history, while Effelsberg radio observatory has a range of 12 to 15 billion light years. The "chiselled garden" in front of the Maria Laach abbey church meanwhile is known as the "Garden of Eden in stone".
Nürburgring
This legendary racetrack, the most famous in Germany, captivates millions of visitors every year. People simply can't get enough of the motorsport action, whether it's Formula 1, motorcycles or trucks. There's much more to Nürburgring than "just" a racetrack though. It's only a stone's throw from "auto motor sport" magazine's driving safety centre. This centre offers practical safety training without taking any of the fun out of driving, using realistic situations to prepare you for the dangers faced everyday on the roads.
Radio Telescope
The largest and most spectacular radio telescope in the world is located to the south-east of the town of Bad Münstereifel. Its antennae alone cover an area of 7,850m² – that's bigger than a football pitch. The enormous parabolic antenna rests on a steel framework and can be angled to receive signals from all directions. It is used for astronomic research, and with its 24 electric motors, scientists from around the globe can use the telescope to locate and observe any object they require in space in a very short time. The radio telescope's viewing platform is accessible to visitors at all times.
Maria Laach Abbey
This Benedictine abbey was a religious and cultural centre of the Middle Rhine and Eifel regions for hundreds of years. Today, around 70 monks live in the abbey. The six-spire abbey church is regarded as one of the most important architectural examples of the western Romanesque period. Maria Laach Abbey was founded in 1093 by Count Palatine Heinrich II von Laach. It is located near a crater lake, which was formed when the ground caved in due to volcanic activity. With a length of 2.4 kilometres and a width of 1.8 kilometres it is the largest lake in the Eifel.
Top of page
Map of Germany
Map showing all of Germany's TOP travel destinations...
Click here!
Search in surrounding area