Places of interest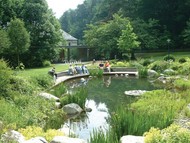 The state spa of Bad Wildungen - an important health resort centre and attractive town in the Waldeck holiday region - has a special charm all of its own. The old quarter is perfect for a relaxing stroll. The well-tended spa gardens are one of the main attractions in the heart of this picture-book town. Friedrichstein Castle attracts visitors from near and far all year round.
Old quarter
The town, which dates back around 1,200 years, first came to international prominence in the 19th century as a favourite meeting place for the nobility and a number of important political and industrial figures. The romantic old quarter with its idyllic half-timbered buildings, narrow winding lanes and medieval fortifications is absolutely charming. From spring to autumn, the Brunnenallee between the new spa centre and the medieval town centre is perfect for a leisurely stroll.
Spa gardens
The spa gardens of Bad Wildungen and the adjacent district of Reinhardshausen are linked by a "green bridge" to form one big park. Together, they form the largest spa gardens in Europe covering an area of 50 hectares. The spacious, well-tended gardens provide the setting for a harmonious blend of traditional spa treatments, state-of-the-art medical facilities and impressive cultural highlights. With a number of footpaths, walking trails and health and fitness tracks, as well as night-time lighting, the gardens are also suitable for wheelchair users.
Friedrichstein Castle
Set on a 300 metre high hilltop, Friedrichstein Castle towers above the spa town and is clearly visible from afar. It was originally built in the 12th century for the Landgraves of Thuringia. After being completely destroyed in the Thirty Years' War, it was rebuilt in its current horseshoe-shaped design in 1674 under Prince Friedrich Anton Ulrich. Today, the restored castle provides a baroque-style setting for a number of events and exhibitions.
Top of page
Map of Germany
Map showing all of Germany's TOP travel destinations...
Click here!
Search in surrounding area